Rapid Result and PCR COVID-19 testing available at these IHA Urgent Care locations.
*Appointment NOT required for Covid-19 testing
*You can walk in or schedule an appointment for Covid-19 testing by clicking one of the locations listed above.
*Covid-19 testing available until 7:30pm on weekdays and 5:00pm on weekends.
IMPORTANT INFORMATION:
APPOINTMENT TIMES INDICATE THE START OF THE INTAKE PROCESS, NOT THE TIME YOU WILL BE SEEN.

If you are experiencing Covid-19 symptoms or have been exposed to someone with a confirmed case of Covid-19, the ideal time to be tested is within 3-5 days of symptom onset or suspected exposure. If your test is performed before or after this time frame, the consulting provider may advise that you quarantine as necessary, regardless of test results.

If you require a Covid-19 PCR Test results for travel, school or any other reason, please be advised that PCR test results are typically returned in 3-5 days; however, turnaround time cannot be guaranteed as we are dependent on results from our testing partner.

All Covid-19 Tests require a provider's order. We are able to provide your order with the required office visit. Please note there is a separate fee for your office visit. Your office visit includes examination and consultation from a qualified provider.

Covid-19 Testing only available for patients ages 18 months and older.

Covid Tests for Companies
You are safe and welcome at IHA Urgent Cares.
Patients who are experiencing any non-life-threatening injury or illness are welcome at our locations. If you have symptoms of COVID-19, we will assess your condition and help determine the necessary next steps.
Rest assured that we are keeping all of our facilities safe and sanitary by following all guidelines from the CDC and local health departments with:
Personal protective equipment (PPE) for our staff as well as patients in need.

Facemasks: WE REQUIRE FACEMASKS for all employees, patients & guests (ages 2+) entering the building.
COVID-19 FAQs & Important Updates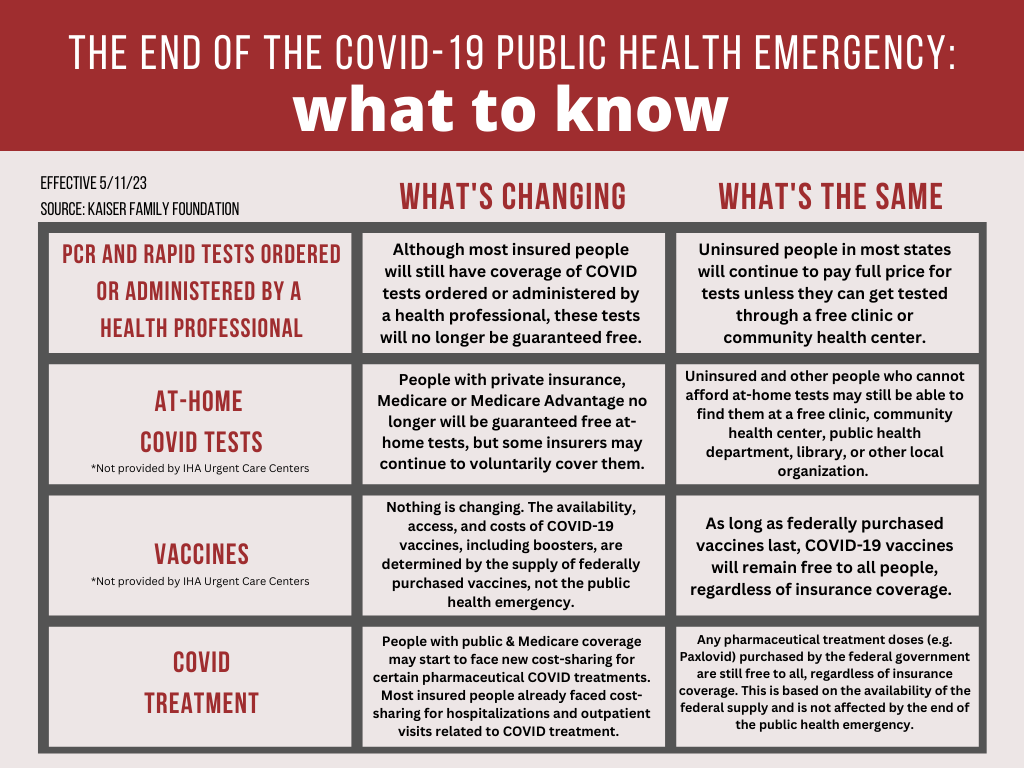 What is the cost of COVID-19 Testing?
Please be advised we are not a free testing site. Cost of test varies dependent on the type of Covid-19 test you receive and cost relative to insurance/non-insurance coverage. Please call our center or inquire upon check-in. An administered COVID-19 test must also be accompanied with an office visit, and there may also be a co-pay/fee for your office visit, dependent on your insurance coverage.
When can I expect the results of my COVID-19 test?
The COVID-19 Rapid test results are within the same day of test. *The COVID-19 PCR test and COVID-19 Antibody test are sent to a lab and results are typically returned in 3-5 days. Please note this turn around time is typical, but not guaranteed.
When is the ideal time to test for Covid-19?
The ideal time to get tested for Covid-19 is 3-5 days after suspected exposure or symptom onset.
What does a positive test result mean?
What does a negative test result mean?
A negative test result does NOT necessarily rule out infection with COVID-19. Based on available data, it can take 2–14 days from the time of exposure to COVID-19 to develop symptoms or become an infected asymptomatic carrier. This means that depending on when you are tested compared to when you were exposed, you could have a negative test result and still be infected with COVID-19.
What are the symptoms of COVID-19?
Symptoms can appear within 2-14 days of contracting the virus, and they can range from mild to severe. The symptoms include:
Fever or chills
Cough
Shortness of breath or difficulty breathing
Fatigue
Muscle or body aches
Headache
New loss of taste or smell
Sore throat
Congestion or runny nose
Nausea or vomiting
Diarrhea
*This list does not include all possible symptoms.
How long do I have to wait after being sick to get an antibody test?
At least ten days post symptom onset of suspected COVID-19.
Please note: The health and safety of our patients and team members is our top priority. As such, we respectfully ask that our adult patients do not have visitors accompany them to the center during their visit. Respectfully, we request only one parent or guardian accompany pediatric patients during their visit.
When should I consider getting a COVID-19 Virus Test?
There are many reasons why getting a test may be right for you. Here are some of the main factors to consider:
1- Are you showing symptoms?
People with COVID-19 have had a wide range of symptoms reported – ranging from mild symptoms to severe illness. Symptoms may appear 2-14 days after exposure to the virus. Symptoms include but are not limited to:
Fever or chills
Cough
Shortness of breath or difficulty breathing
Fatigue
Muscle or body aches
Headache
New loss of taste or smell
Sore throat
Congestion or runny nose
Nausea or vomiting
Diarrhea
2- Have you been exposed?
If you've been in contact with someone who has tested positive for COVID-19, you can help stop the spread by getting tested to find out if you too have been infected with the virus. Some individuals carry Coronavirus, but do not have any symptoms.
3- Caring for someone at high risk
Have you traveled or been at a high risk gathering and will be visiting or caring for someone at high risk?
A virus test will help you to plan for their safety.
People of any age with the following conditions are at increased risk:
Children who are medically complex, who have neurologic, genetic, metabolic conditions, or who have congenital heart disease are at higher risk for severe illness from COVID-19 than other children.